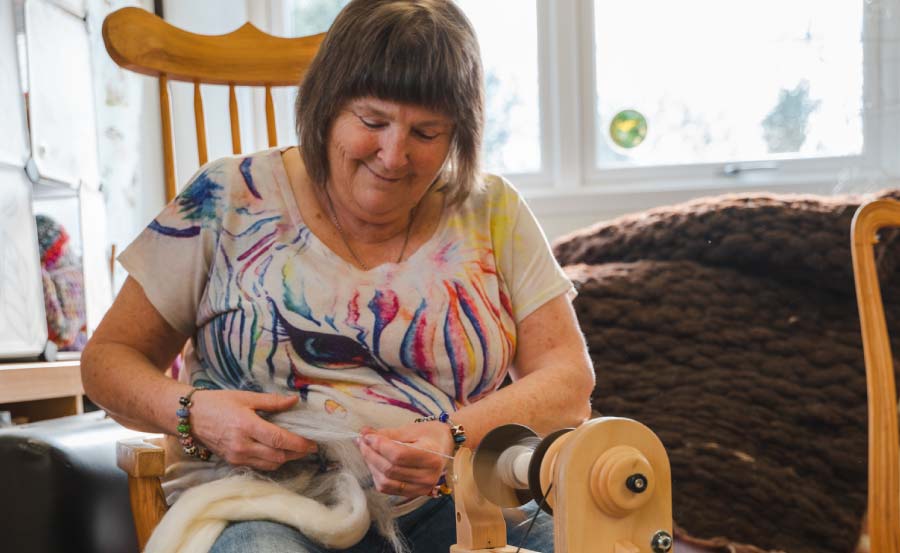 We love to hear success stories from past participants of our Workshops.  Christine Casey recently attended our '6 Steps To Business Success' course and her business, Kiri Cottage Crafts, is growing day by day – read her story here.
Please introduce yourself.
My name is Christine Casey, and I live on the Ards Peninsula, between Kircubbin and Portaferry. I learned to knit over 50 years ago, and have been on a quest to learn new crafts ever since then! I also coach horse riding, and practice a range of equine and human bodywork and energy work.
What is the journey of your success in to business?
My Grandmother, Mother and Aunt were all knitters and crocheters.  My Grandmother knit and sold Aran jerseys to America in the 1960s and 70s, and could turn her hand to nearly any textile craft. Between the three of them they taught me to knit and crochet and gave me every encouragement to learn more crafts. I learned to spin at the 'Womens' College ' in Belfast (sadly closed a long time ago), in the early 80s, and have been spinning ever since. I have demonstrated spinning at various venues for a number of years and started to teach friends to spin, then became a member of the then Ards Council Creative Peninsula collective which opened up more demonstration and teaching opportunities. More recently I attended the Ards Business Hub excellent 'Go for it' programme, and was subsequently assigned a mentor to help me write a business plan. Ards and North Down Council have been very supportive in helping me to create and advertise 'craft experiences', and the DAERA Rural Development Cluster group also, in offering opportunities to benchmark with successful experience providers, and in funding the development of a website. To date, with this support, I have run a number of successful, fun workshops where participants have learned to spin, use a peg loom, and make friendship bracelets, amongst other things.
Tell us more about your business?
As a crafter, I am keen that the knowledge and skills of traditional crafts are retained and actively practiced. I hope to achieve this by running classes, providing demonstrations and talks. I have a small workshop at home where I run half and full day workshops, and am happy to go to other venues to run bespoke events for groups. My key crafts workshops are knitting, spinning, peg loom weaving, and crochet. I have also offered workshops to learn how to create a 'book angel' using a paper folding technique; a 'weaving in a nature' experience, using natural fibres and foliage; friendship/pony bead bracelets, and I am planning to offer workshops to create mandalas, dream catchers and 'God's Eyes' (good luck charms). The list will increase as I learn more, and as I am asked to run workshops using different crafting skills.
Who would you say has offered you the greatest support in your business journey?
All of the above! Hard to single any one person or organisation out – from my family, through to the local and central government programs – support has always been there and I am very grateful for it.
What goals do you have for the business 3 years from now?
To run an ever increasing range of craft workshops on a regular basis, sufficient to allow me to retire from my 'main stream' work, and have a little extra finance to reinvest in yet more skills, equipment and supplies.
How did your experience on the 6 steps programme help you on your business journey?
It was a really good first step. The material was very clear, with as much practical help as I could possibly ask for. It was well structured within the 6 modules, and delivered over a 3 week period which helped to keep me connected to what I was learning. The mentor was excellent and the business and financial plans that she developed for me were first class – well above my expectations.
If you could offer advice to anyone thinking of starting a business, what would it be?
Attend this program! Take your time, do one thing at a time and don't rush into starting.
How did you find your experience with Ards Business Hub?
Find further information on Kiri Cottage Crafts visit their website
www.kiricottage.co.uk
.  Ards Business Hub thank Christine for her participation and wish her the best for the future.
Our next '6 Steps To Business Success' course commences on 7th June 2022.  Register your interest
here
.